Derek
New and Free HTML5 Browser Games - August 2023
The digital realm is a vast expanse of evolving technologies, and with every evolution, there's a risk of leaving behind some cherished memories. Flash games, once the crown jewels of online entertainment, faced a similar fate with the phasing out of Adobe Flash. But thanks to the marvels of HTML5 emulation, we're witnessing a renaissance of these beloved classics. GameFools, a platform known for its vast collection of online games, is at the forefront of this revival, ensuring that the nostalgia of Flash games lives on.
For those who've been yearning for a trip down memory lane or are new to the world of online gaming, GameFools' online game section is the place to be. They're regularly updating their collection, so it's always a good idea to check back often. Let's dive into some of the latest free HTML5 games they've made available:
Fish Tycoon
Dive deep into the world of aquatic entrepreneurship with Fish Tycoon. This real-time aquarium simulation game lets players breed and crossbreed fish until they find the 7 Magic Fish. As a player, you'll be responsible for managing your virtual aquarium, ensuring your fish are fed, and taking care of their health. With a plethora of possible fish breeds and a dynamic in-game economy, Fish Tycoon offers hours of engaging gameplay. Whether you're a seasoned gamer or just looking for a relaxing pastime, Fish Tycoon is sure to hook you in!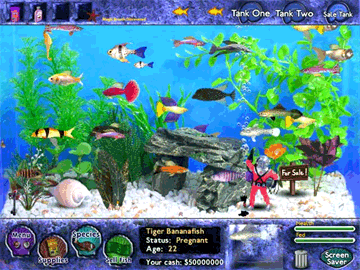 Farm Frenzy 2
Get ready to roll up your sleeves and dive into the bustling world of farming with Farm Frenzy 2. This game offers players a chance to manage their own virtual farm, from raising animals to producing goods for sale. With a variety of tasks to manage, including feeding animals, collecting produce, and warding off predators, players will need to strategize and prioritize to ensure their farm thrives. With vibrant graphics and a captivating gameplay loop, Farm Frenzy 2 is a delightful experience for gamers of all ages.


Diamond Detective
Channel your inner detective and embark on a sparkling adventure with Diamond Detective. This game challenges players to solve a series of jewel heists by matching gems and collecting clues. With a combination of puzzle-solving and narrative-driven gameplay, players will need to stay sharp and focused to crack the case. Each level brings its own set of challenges and mysteries, ensuring that the gameplay remains fresh and engaging. If you have a penchant for puzzles and a love for lustrous gems, Diamond Detective is a gem of a game you won't want to miss!
The transition from Flash to HTML5 has not only preserved the legacy of classic online games but has also paved the way for enhanced gameplay experiences. GameFools Online Games section continues to be a beacon for gamers around the world, offering a blend of nostalgic classics and new favorites. So, whether you're looking to relive old memories or create new ones, GameFools' ever-expanding collection is the place to be.